If you are an adventure lover then India offers some great trekking opportunities. From north to south and east to west, India has a number of places to go trekking with all levels of difficulty. Along the way you will experience beautiful lush green fields,  tribal villages, sacred Hindu temples, Buddhist monasteries and  valleys full of wild flowers that make for a scenic landscapes.
But if you are planning to trek for the first time then you should know that before starting-off your adventurous journey that physical fitness is a must and your lungs must be strong enough to endure the tough conditions along with being able to deal with higher altitudes where the oxygen is scarce.
So if you think you have what it takes, then take a look at these amazing trekking destinations in India.
1) Hampta Pass, Himanchal Pradesh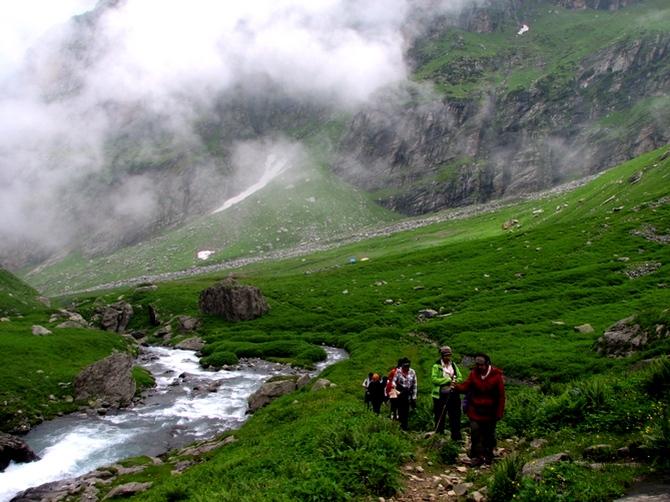 The starting point for your trek would be Manali, from where you will be heading by bus to Jobra  an hour away from Manali.
From Jobra you will start your trek to Balu ka Gera where you would  be welcomed by dense forests of maple trees on the way. At Balu ka Gera you will find lot of rocks and sand and dust at Rani nala. The landscapes are scenic and provide an opportunity for the photographer in you to embrace your talent
The next stop would be Shea goru on your decent via Hampta pass. Your journey to this stop will be mostly along the banks of the river Rani, where you will find tons of beautiful coloured flowers.
Occasional rainfall and snowfall are very calming and pleasing. Your next stop would be Chatru which is a gentle downhill walk, from there you would move down further to see the beautiful Chandratal lake which is moon shaped. The camping ground is 4 km away from Chandratal. Cabs are available to make your way back to Manali
Level of difficulty: Moderate
Best Time: June to mid-September
Nearest railway station : Jogindernagar railway station
Nearest airport: Bhuntar/Kullu airport 31 miles away from Manali
Altitude : 14100 ft
Temperature : daytime 12-15 degrees, night 8-10 degrees
2) Goecha La, Sikkim
The starting point of your trek will be Yuksom which lies in the Kanchenjunga national park, from there your first stop will be Sachen. Where you will come across the beautiful Yuksom valley with the Rathong river gushing through.
From Sachen you move upwards to Tshoka via Bhakim. Tshoka is an hour away from Bhakim. Along the route there are thick oak forests and huge grazing grounds. Moving upwards, the next destination would be Dzongri where you will come across a giant frozen waterfall
From Dzongri to Dzongri top will be another one hour. From the top you can witness the beautiful peak of Kanchenjunga. The rising sun's rays falling on the snowy peak of Kanchenjunga is a feast for the eyes.
From here you return to Dzongri, where your journey towards Lamuney begins. On your way there the sights include see the Pandim peak, the hanging glaciers and snow covered grounds.
Lamuney to Goechala is the next and the longest trek. In Goechala you will see colourful prayer flags.  From Goechala there is the downward descent towards Tshoka via Phedang and from there continue to the Yuksom valley via Bhakim.
Level of difficulty: Moderate to difficult
Best Time: Mid April to late May
Nearest railway station : Jalpaiguri railway station
Nearest airport: Bagdogra near Siliguri in West Bengal, 170 kms from the Yuksom valley.
Altitude : 16000 ft
Temperature : Daytime 15–25 degrees, night 8-15 degrees
3) Roopkund, Uttarakhand
Roopkund is a lake in the Chamoli district of Uttarakhand in India.The journey starts from Loharjung which is 85 kms away from Karnprayag. From here you start your trek to Didna village. Downhill from Loharganj the river Bedni Ganga flows. The journey to Didna vilage offers a splendid view of oak and bamboo forests.
The next trek  would be from Didna vilage to Ali Bhugyal which is a beautiful camping site with acres of lush green meadows  Fom Ali Bhugyal to Ghora Lotani en route to your destination you will see the spectacular beauty of nature.
Trekking your way farther up from Ghora Lotani would be the real test of your endurance and strength as the altitude increases, the atmospheric pressure and the oxygen content in the air decrease. Making your way further up to the Kalu Vinayak temple, from where Bhagwabhasa is 2 kms away.
From Bhagwabhasa , Roopkund is a 5 km gradual ascent. Roopkund is known as the mystery lake since a large number of skeletons were discovered there with no explanation as to where they come from.
Junargali is the last stop and also the highest point on the trail. From there the descent to Bedni Bhugyal begins and you move to the last leg of your journey to Loharganj where you will come across beautiful meadows and oak forests once again.
Level of difficulty : Difficult
Best Time : Late May to June, mid Sept-mid Oct
Nearest railway station : Haridwar railway station 202 kms from Chamoli
Nearest airport: Jolly Grant airport, Dehradoon, 222 kms from Chamoli
Altitude : 16499 ft
Temperature : Day 15 degree- 20 degree, Night 4-7 degree
4) Chadar trek, Ladakh
The Zanskar river in the Ladakh region tends to freeze in the coldest months thus forming a white blanket of ice and getting its name Chadar which in Hindi translates to a blanket.
The starting point of the trek is called Tilat Sumdo which descends into the Zanskar valley where Zanskar meets Indus at a place called Nimmu. To reach the camping site you have to cross the frozen Zanskar river which is the place where you first touch the white blanket of snow or the Chadar in the midst of mammoth mountains.
Your next journey will be from Tilad Sumdo to Gyalpo moving carefully on the Chadar following your guide or the locals who seem to have a great sense of where to step to avoid any tripping over the frozen lakes. The trekking session to Gyalpo is about 12 kms and at some places you even have to wade through knee high water. 
From Gyalpo your next target is the Tibb cave. Along the way you will come across many caves and ravines. From the Tibb cave you have to move upwards to  Naerak, where you will see lots of frozen waterfalls, juniper trees and stunning vistas.
From here you will start your return journey over the Chadar which is technically supposed to be the same but due to the frequently changing weather conditions the Chadar keeps changing all the time and this is the uncertainty that brings out the beauty of the trek.
Level of difficulty : Difficult
Best Time : Mid Jan – mid Feb
Nearest railway station : Jammu-Tawi, 700 kms from Ladakh
Nearest airport: In Leh well connected to Delhi, Jammu, Srinagar, Chandigarh etc,
Altitude : 11123 ft
Temperature :  2 degrees by daytime, -20 at night
5) Chembra Peak, Kerala
Chembra peak lies in the southern parts of Wayanad and the nearest town is Meppady in the state of Kerela. Its rugged terrains offer a great trekking experience for first time adventure travelers. A heart shaped lake on the top of the destination is a remarkable feature of the trek.
The trail for trekking is 4.5 km length. From the starting point to the watch tower you will see beautiful tea estates. Take a break here and then start off for your next destination which is the end of the forest. From here move further to the peak where you will get to see the heart shaped lake called 'hridhayathadakam'. From here you can see the entire Wayanad.
Level of difficulty : Easy
Best Time : September-February
Nearest railway station : Kozhikode, about 79 km
Nearest airport: Calicut International Airport, about 92 km
Altitude : 6730 ft
Temperature : 18 degrees
---